[ad_1]
This autumn, one bear will be easier to spot from the air. This year's Blue Ridge Mountain Maze will offer 5 acres of corn-concealed pathways, plus a variety of family-friendly fall festival activities, at its new location — Blue Toad Hard Cider at 462 Winery Lane in Roseland.
Between 1.5 and 2 acres of the maze is a bear design. Presented by organizers Kate and Hub Knott, Luke Von Hemert and Madison Grimley, the corn maze is carved into the cornfield by an Idaho company that brings GPS technology and agricultural tradition together.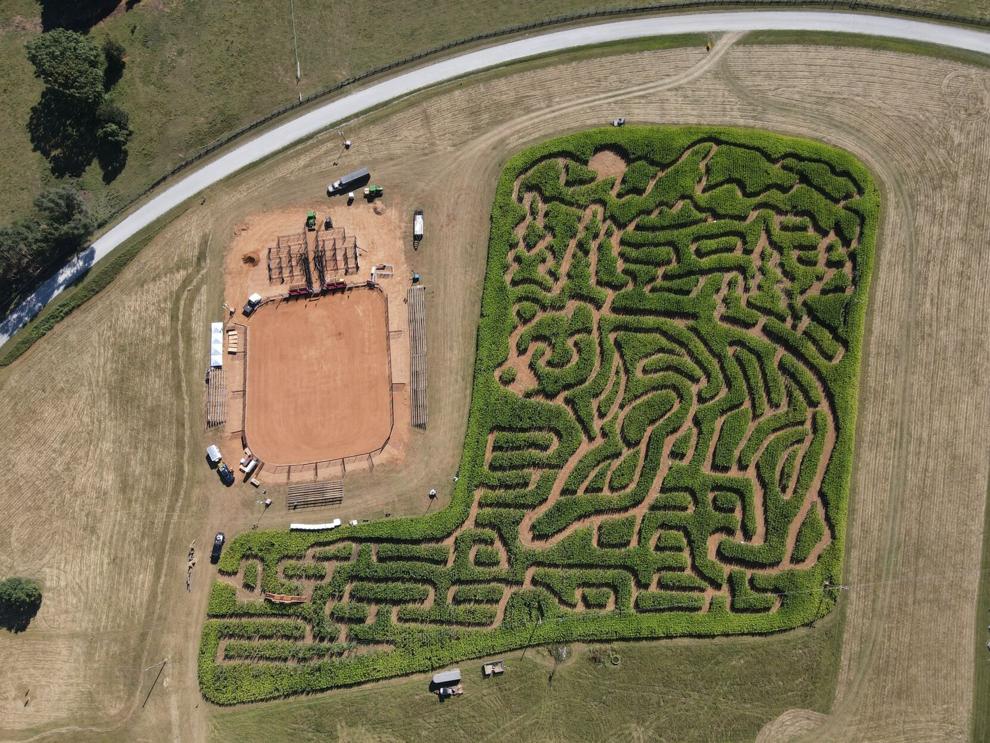 "We're all about creating smiles for families outside in the splendor of fall, in the panoramic views of the mountains," Kate Knott said. "We're not cookie-cutter entertainment. We're not an amusement park. We're agri-tainment; we're homespun. It's a down-home kind of organic experience."
The corn maze and festival will be open from Sept. 23 to Nov. 5. Hours will be from noon to 10 p.m. Fridays, 10 a.m. to 10 p.m. Saturdays and 10 a.m. to 6 p.m. Sundays. The maze normally will be closed on Mondays, but it will be open from 10 a.m. to 6 p.m. Oct. 10 in honor of Indigenous Peoples Day.
New this year will be corn cannons ready for "blasting corncobs across the countryside," Knott said. Returning favorites will include a corral full of farm animals and a farm-themed obstacle course that steers participants over logs and sends them threading through ropes and tires. Hot apple cider and apple cider doughnuts will be plentiful.
Starting Oct. 7, a night maze on Fridays and Saturdays will give adventurous visitors opportunities to find their way through the corn by flashlight and emerge in time for treats by the campfire. Some weekends will include live music, as well as movie screenings on a giant screen in the meadow.
"The kids can run and play, and we'll have hard cider for the parents," Knott said. "I think people are surprised by how much fun it is."
Knott said that the maze and festivities attract school groups as well as weekend-loving families. Students can follow signs to learn more about organic farming practices and get a better idea where their produce comes from, she said.
She said that there have been plenty of changes since the team first started cutting mazes by hand in cornfields near Washington, D.C., in 2000.
"When corn mazes weren't even on the map, we had to cut it by hand with a garden hoe," Knott said.
These days, the maze-cutting company from Idaho can get the job done in four to six hours.
"They know how to mastermind it so you can keep people inside [the maze] for about 45 minutes," Knott said. "They come in with a tractor; they tow it behind their RV from Idaho. They dial into GPS and rototill these beautiful pathways. Once there's enough foot traffic, the paths are hard packed — almost like concrete."
Admission is $13 for adults; it's $12 for ages 4 to 12 and free for visitors ages 3 and younger. Get all the details at www.blueridgemountainmaze.com.
Jane Dunlap Sathe (434) 978-7249
sathe@dailyprogress.com
[ad_2]
Source link