[ad_1]
Make a list of any neutral basics, for example, you can use in other combinations. Think about what you're lacking. Work stuff? Casual stuff? Prints? Neutrals? Colours? Stuff that protects your skin from the sun? Make a list.
Thanks to Smart Collective Perth for the basic wardrobe audit routine (they'll do it for you too, and they're fantastic).
And just like at the supermarket, a list stops you getting distracted and making costly mistakes.
When you're ready, shop.
Take it from someone who has done hours of research and be aware that virtually every clothing brand available in your local shopping centre will be rated as "not good enough" at best by all the major sites and outfits that ethically rate clothing brands today. That said, if you have to go to the shopping centre, look for organic cotton. That's about the best you can do.
But there are other options.
I have focused below on those for people who, like me, don't have the body of a 20-year-old or a broom handle and prefer to be able to try things on.
Low or no-budget. And the greenest options
Join your local Buy Nothing Facebook group and look for free clothes.
Buy at op-shops. One good strip is Albany Highway in East Victoria Park, another is Albany Highway, Cannington. Grab a huge pile of stuff, look for colours and labels you like without fussing too much about sizing and try it all on. The staff won't bother you about having too many items in the change room. You might be surprised at what fits and looks nice. An added bonus is that any bad choices will only set you back $3-$4. Another is you'll never turn up to work wearing the same thing as a colleague. Another is you get all the nice feeling of retail therapy, but you walk out with a huge bagful of clothes for $50.
Shop at Kmart or Big W, but look for organic cotton and "better cotton" labels.
Shop clothing bundles on Facebook Marketplace.
Encourage a clothes swapping-culture among family and friends.
Moderate budget
1. Try consignment stores. They're one-up from an op-shop and where the ladies who lunch offload their barely worn labels. Jackpot.
2. Clothing hire. I haven't used as I need to try stuff on, but if you've got an easy body, check out The Volte.
3. Support Perth's own sustainable clothing labels. There are several, but if you want to see several labels at once the best place to browse is Collab at the Fremantle Markets. Open Friday to Sunday.
4. Ruck Rover in Northbridge stocks clothes from small sustainable brands for those who like a vintage feel and colourful prints.
5. Buy online from one of the multiple Australian companies supplying affordable basics made from sustainable fabrics. Organic bamboo is much more sustainable than general cotton if thoughtfully sourced (look for bamboo lyocell, not bamboo rayon) and look for information on supply chains on their websites. Two places that have good ranges, cheap shipping and easy returns and refunds for things that don't fit are Bodypeace and Bamboo Body. Two other well regarded brands that come to mind are Etiko and Boody.
Higher budget
Try these other Perth sustainable brands (there are more, but you can keep researching!):
1. Kristin Magrit. Plant-based and locally made classic styles. Their Subiaco boutique is open Tuesdays and Fridays.
2. Empire Rose. Locally made but more statement pieces. Fremantle shop open weekdays.
Final thoughts
1. Go for slower shipping if you can be prepared to wait to lessen the carbon footprint.
2. Avoid sales. You end up with stuff that's not quite right that you talked yourself into because it was so heavily discounted. It's not a good deal if you never wear it.
3. Go alone (unless you're shopping for a special occasion outfit). You need to focus on what you need and not have someone talking you into things you don't need just because it's fun (sorry).
4. Look after your clothes. Educate yourself about laundry and stains. Subscribe to Clean Cloth Nappies for science-based stain removal advice and support. Treat stains quickly but don't wash stuff until you need to. Clothes will last a lot longer.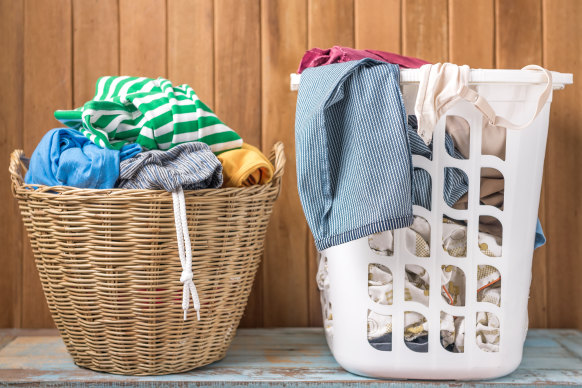 Of course, you're already doing this, but bring your own bags! Keep a scrunchable one in your handbag. If it's a big planned shopping trip, bring multiple bags.
Even the most die-hard op-shopper needs to buy new occasionally. Undies, socks, bathers, and those situations where you must fill specific gaps in your fabulous secondhand wardrobe. Embrace it, buy as carefully as you can and take real pleasure in that rare new thoughtfully bought item.
Lastly, it is major companies driving environmental destruction, not individuals.
Individual action has a place, which is why I wrote this, but it must include letting companies know what we expect from them. So why not join me for War On Waste Wednesday?
Every week I email one company to let them know I've found an example of them using plastic unnecessarily, or inform that I went looking for sustainability or supply chain information on their website that wasn't there.
For example, last week I emailed David Jones and asked them why they'd abandoned the "Mindfully Made" page on their website launched with great fanfare some time ago. This is a minute of action once a week, and amounts to maybe an hour a year per person, but could bring major change.
That's it from me. Please add your own suggestions in the comments!
Loading
Summer sale! Subscribe to WAtoday for $1 a week for the first six months, for uninterrupted access to news, culture and sport from our Perth team, plus sister publications The Age and the Sydney Morning Herald, and exclusive emails from our newsroom. Change or cancel any time. Hurry! Sale ends February 12.
[ad_2]
Source link