In an effort to encourage citizens to donate unused items such which can be refurbished, reused, or recycled to create new ones, the municipal and town councils in the state launched the Reduce, Reuse and Recycle (RRR) centres in their respective councils on May 20.
It may be noted that RRR centers were part of the "Meri Life, Mera Swachh Shehar" project launched under the Swachh Bharat Mission-Urban 2.0 by the Ministry of Housing and Urban Affairs (MoHUA).
In Dimapur, the temporary RRR office initiated by Dimpaur Municipal Council was inaugurated at Dimapur District Sports Council by Naga Women Hoho Dimapur president, Neinuo Kire.
Addressing the gathering, Kire said Reduce, Reuse and Recycle were the three essential practices that would help promote environmental sustainability if it was properly adopted by the community.
She also called for collective efforts from individuals, businesses and colony councils and residents for the campaign to be successful.
"Under such initiatives, together as responsible citizens, we can create a greener and more sustainable city for present and also future generations", she said and encouraged everyone to get involved by participating in the donation drive to make the campaign a success.
Delivering the keynote address, administrator, DMC, W Manpai Phom, said RRR campaign was launched under the initiative of Swachh Bharat 2.0 mission, and the drive would culminate on World Environment Day, June 5.
He urged all colony and ward councils to take active part in this campaign, as the three best performing colonies will be awarded Rs. 70,000, Rs. 60,000, and Rs. 50,000.
He informed that first phase collection would be conducted on May 27 and second phase on June 3, and for which colony councils have been asked to identify their RRR centre.
Meanwhile, delivering short speeches, vice president, Dimapur Urban Council Chairman Federation, Vikheho Chisho, assured full cooperation to DMC and urged the chairman federation and GB Union to carry out work as husband and wife.
General secretary, Dimapur GB Union, T Onen Jamir, also in his short speech assured to cooperate with DMC for the success of the campaign.
Earlier, the programme was chaired by Lensanaro Pongen and welcome address was delivered by DMC superintendent, Ganesh Sharma.
KOHIMA: Inaugurating the RRR centre for six wards (4,5,6,7,8&9) wards under Kohima Municipal Council at KMC office, Kohima in collaboration with Kohima Smart City Development Limited, DC Kohima, Shanavas.C reminded the citizens to look beyond their comfort zone and focus on RRR and realise the concept of sustainable development in a broader context.
Shanavas spoke on the need to limit the use of paper and the absence of proper functioning recycling plant in the state. He appealed to the people to properly dispose the waste by segregating bio-degradable and recyclable wastes.
Administrator, KMC, T. Lanusenla Longkumer informed that the RRR campaign would culminate on June 5 and the best three centres would be awarded and massive cleanliness drive will be concluded.
Longkumer also appealed to the people to contribute their surplus old unused items like used clothes, old books and stationery, toys, furniture, shoes, bags and electronic items etc. to the RRR centres.
Earlier, ACI, KMC, Neilhouphrelie, delivered the welcome address and chaired the programme.
LONGLENG: Longleng Town council also organized the launching event of RRR, on May 20, at Longleng Town Council office premises.
According to a DIPR report, the event was attended by host of NGOs including Longleng Town Ward Union, Phomla Hoichem, Phom Students Conference, Chambers of Commerce and Industries along with Dobashis and Gaonburas.
SDO (Civil) Trongdiba Tongpi Sangtam, exhorted the gathering on the importance of such centre with the idea that reusable items could be brought to use. He said that similar centers shall be set up in all existing wards and points with the support of ward leaders and public.
A brief presentation was delivered by MIS, Swatch Bharat Mission, Longleng, Isaac.
The release added that RRR centre was a conceptualized one stop solution for citizens for implementation of sustainable waste management and promoting a clean Town, where citizens can donate/deposit old clothes, toys, shoes, furniture, books, plastic items and other reusable items.
The collected items would then be handed over to different stakeholders to be refurbished for reuse and would then be made into new products.
The release added that the event was chaired by ADC and administrator Longleng Town council Alongdhimen Jamir.
ABOI: The RRR centre under 'Meri life mera swachh shehar' campaign was inaugurated by ADC, administrator Aboi Town Council and Phuleshe K Yepthomi on May 20 at council hall, Aboi.
A report by DIPR informed that at the programme, Phuleshe K Yepthomi as the guest of honour, emphasized on the importance of waste items that can be recycled and reused to not only suit the environment but also help in minimising waste products as a whole. He urged the gathering to make use of the RRR centre that have been established in all the wards of Aboi and also to make use of the concept of reduce, reuse and recycle even in the days to come.
Earlier, the programme was chaired by SDO(C), Aboi Arhomo Yanthan, who also welcomed the attendees and addressed the activities and target of the RRR campaign.
Welcome address was delivered by ATSU president Hamshen and invocation by district chaplain, KBBB Ashok Walim and vote of thanks by EAC Longleng, Cthitu Nienu.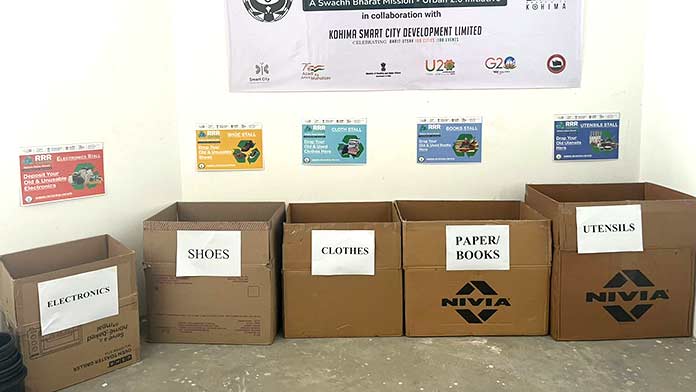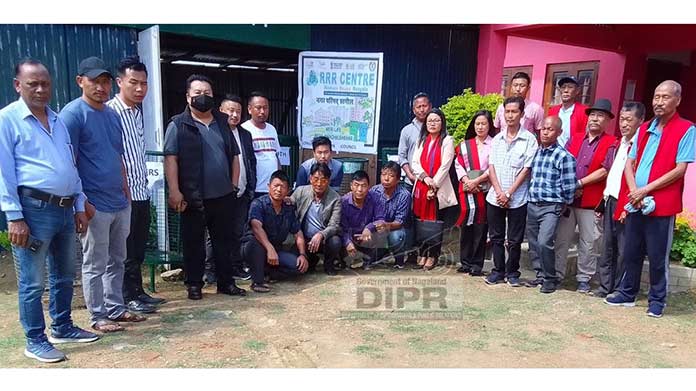 Source link