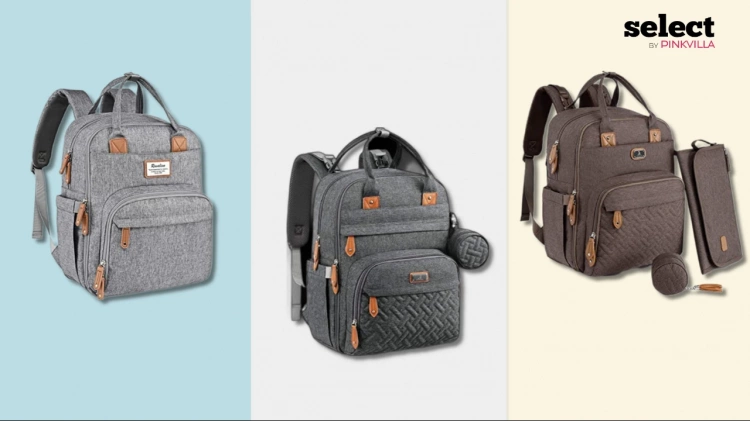 The products curated for this article are independently chosen by the
editorial team. If you make a purchase through the links mentioned below, we may receive a commission. Check out our product
research & curation process
While becoming a parent feels like one of the most rewarding things ever, it can also become extremely challenging at times. Especially when you have to take your children out or have a long road to travel. This is where the best diaper bags come into the scene. They are vital accessories for parents or caregivers to carry all the necessary items for their babies in one place. 
Diaper bags typically have multiple compartments and pockets to store diapers, wipes, bottles, clothes, toys, and other essentials. They offer convenience and organization, ensuring
that parents have easy access to everything they need to care for their babies. But it can be a task to find a bag that's modern, baby-friendly, and spacious enough to store everything without looking bulky. So, whether you are a new parent or a professional caretaker, this list will help you decide which one to buy.
Scroll down to know more!
Our top picks
Best 3-in-1 Convertible Bag
10 Best Diaper Bags to Carry All Your Baby's Essentials
Ruvalino's backpack diaper bag screams comfort, versatility, practicality, and functionality. It can be worn as a handbag, or hung on the stroller. With spacious pockets, and wet wipes dispenser, this diaper bag also makes it easy to find essentials in a pinch owing to its extra wide opening. Additionally, it has zippers for easy access and closure even with one hand while you are busy carrying a baby with your other hand. It is stylish, durable, and has a unisex appeal to it. This means, both mothers and fathers can wear it all day long without any kind of discomfort on their shoulders.
Pros
Sturdy top handle
Neat stitching
Water-resistant
Ergonomic design
Versatile
Lightweight
2
Most Durable
BabbleRoo Diaper Bag Backpack
Hailed as the most sturdy and aesthetically pleasing by its customers, this BabbleRoo's chic backpack is made of water-resistant fabric, has strong zippers, and cushioned straps that distribute the weight evenly on both shoulders. Furthermore, it has an easy-to-grab handle and the stitching is durable. As per our research, it has two main compartments along with 18 pockets to organize all the essentials neatly. Overall, it's a great purchase if you are someone who focuses a lot on style, purpose, and appearance.
Pros
18 pockets
Cushioned straps
Spacious
Tear-resistant
Water-resistant
Easy-glide strong zippers
3
Most Ergonomic Design
Dikaslon Unisex Diaper Bag
With multiple pockets, a spacious interior, and waterproof properties, this trendy diaper bag should be on every new parent must-have list. It features an all-in-one design that comes with a portable changing back, two removable pacifier cases, a stroller strap, and five insulated pockets. Talking about its versatility, this bag would take the trophy home. To top it off, the surface of this backpack is soft, smooth, and hygienic. You just have to pull out the changing pad and place the baby down when it's time for a diaper change without worrying about your baby getting rashes or any allergies. 
Pros
Portable changing pad
Durable
Extra wide opening
Ergonomic design
Waterproof
Spacious
4
Most Versatile
Ruvalino All-in-One Baby Bag
Ruvalino's cute diaper bag has been featured in many well-known magazines and it is every influencer mommy's favorite on social media to reveal what's in their diaper backpack. They can't stop raving about its premium craftsmanship as the interior includes a padded laptop pocket and a myriad of space-opulent pockets. On the other hand, the exterior looks stylish and has built-in sturdy stroller straps. Moreover, it is lightweight, durable, and waterproof. Besides its functionality, the bag is available in five different colors and appropriate for both short and long travels. 
Pros
Versatile
Theft-proof
Water-resistant
Thick shoulder straps
Durable zipper
Sturdy clips for stroller
5
Most Stylish
itzy ritzy Mini Diaper Bag
We couldn't miss out on this Itzy Ritzy's fashionable diaper bag when speaking of style, class, and performance. It features eight pockets, adjustable straps, and is perfect for quick outings. Moreover, it is made from vegan leather. Even the portable changing pad is vegan and matches with the bag's original color. Well, there's something more — the bag is available in different colors and you can carry it with the help of the built-in handle or simply wear it as a traditional backpack. 
Pros
Vegan fabric
Rubber bottom
Stylish
Adjustable straps
Matching changing pad
Durable
6
Most Lightweight
Parker BABY Diaper Bag
Parker Baby's extra large diaper bag is definitely a vibe for those bored with black and browns. It is unique, unisexual, and you don't have to compromise on your style anymore. Talking about its performance, we tested this product and found out that the interior maintains the temperature of the bottles and baby food without making it colder or hotter. It is also spacious enough to carry all the baby essentials, including toys, books, bottles, and burp clothes. Plus, it is water-resistant, has ten functional pockets, and stroller hooks for when you don't feel like carrying the bag on your shoulders.  
Pros
Dual colored
Has stroller straps
Changing pad
Vegan leather
Large capacity
Padded laptop sleeve
7
Best 3-in-1 Convertible Bag
Miss Fong Diaper Tote Bag
This elegant-looking tote diaper bag is the perfect blend of fashion and function. Additionally, it doubles up as a backpack or even a sling bag with the help of detachable straps. That's how multifunctional this bag is! The exterior is crafted from ECO PU leather while the interior is made from 100% waterproof nylon along with thermal insulation material. To be noted, it has a total of 15 storage pockets and two side insulated ones to store baby bottles. Other than this, it features a wide zipper closure which makes it easy to access everything that's packed inside. 
Pros
3-in-1 convertible bag
Large back pocket
Versatile
Thermal insulation
Stylish
Comes with a changing pad
8
Most Comfortable
GAIVP Diaper Bag
Store all your baby's essentials smartly in Gaivp's diaper organizer that keeps milk bottles warm in its insulated thermal pockets. It is made from soft, lightweight, and skin-friendly materials and quite spacious to keep just about everything. To note, it is also waterproof, wear-resistant, and comes in a range of designs and colors. Based on our test and observations, it can be carried on your shoulders, hand-held, or hung on a stroller as per your requirements. 
Pros
Insulated pockets
Stylish
Affordable
Lightweight
Comfortable
Durable
9
Best for Short Outings
SKIP HOP Diaper Bag
Skip Hop's award-winning quilted bag is lightweight and smartly-designed to carry your baby's essentials while looking stylish and modern. The main compartment has an extra wide zip opening that's spacious to fit everything, including snacks and spare outfits. What fascinates all the reviewers about this product is that everything stays within reach owing to its elasticised interior pockets and insulted side bottle pockets. Plus, it is quite versatile as well. If you don't want to use the changing pad, you can use it as a laptop holder. So, why wait? Purchase this bag and go from your baby's birth to toddlerhood in style! 
Pros
Stylish
Lightweight
Two-way zip closure
Extra wide opening
Padded straps
Waterproof
Cons
Available in only one color
10
Best Stain-resistant
Freshly Picked Diaper Bag
Freshly Picked's compact diaper bag is 100% wipeable, spill-resistant, and looks extravagant. It is made from quality vegan leather, whereas the interior is made from nylon. The bag also features a nylon changing pad and ten pockets that are spacious enough to store all the necessary items. Speaking about its multifunctional properties, the bag can be used as a backpack, crossbody bag, or a purse. If you ask us, this one is the epitome of chicness and it is perfect for moms who like to splurge a little more than usual on luxury bags.
Pros
Premium zippers
Stain-resistant
Metallic bottom
3-in-1 convertible bag
Lightweight
Vegan fabric
Cons
Strong faux leather smell
Now that you've gone through the list of the best diaper bags, let's quickly take a look at how you can select the right one.
How to Choose the Best Diaper Bags?
Choosing the best diaper bag involves considering several factors to meet your specific needs. Here's a guide to help you make the right choice:
Size And Capacity: As a parent looking for diaper bags, you need to first determine the amount of storage space you would require. Are you looking for a bag that's suitable for long travels or do you want a backpack that's apt for quick outings? If it's the former, then buy a bigger bag and if it's the latter, then go for a mini version. 
Compartments And Pockets: Look for bags with multiple compartments and pockets to keep items organized and easily accessible. For this, you need to keep in mind your organizational preferences and the specific items you would carry.
Durability And Material: Opt for a diaper bag made of durable and easy-to-clean materials, such as nylon or polyester because news flash — babies can be messy! So, choose a bag that can withstand spills and is easy to wipe clean.
Comfortable Straps And Handles: Consider the bag's design and ensure it has comfortable straps or handles for carrying. Adjustable, cushioned, and padded straps can help distribute weight evenly and reduce strain.
Style And Design: Choose a diaper bag that aligns with your personal style and preferences. There are various options available, including backpacks, totes, messenger bags, and more.
Convenience Features: Look for additional features like insulated bottle pockets, stroller attachments, or built-in changing pads. These can enhance the bag's functionality and make your life easier.
How to Use Diaper Bags?
Using a diaper bag effectively needs organizational skills and proper packing. Here are some steps to help you use a diaper bag efficiently:
Preparation: Before directly dumping the things in your bag, gather all the necessary items you will need for your baby, including diapers, wipes, bottles, formula or breast milk, extra clothes, etc. Bring them all in one place. 
Organization: Now, organize the compartments. Familiarize yourself with the different compartments and pockets of your diaper bag and use them strategically to keep items organized and easily accessible. And most importantly, designate specific compartments for diapers, wipes, bottles, and other essentials.
Packing: Start by placing larger and bulkier items at the bottom of the bag. This provides a stable foundation and prevents smaller items from getting crushed. You can do so by placing diapers, wipes, and changing pads in designated compartments or pockets for quick access during diaper changes.
Utilization: Utilize all the pockets and compartments by using them to organize items efficiently. Keep bottles and food in insulated pockets to maintain the desired temperature. Furthermore, separate clean and dirty items, such as clothes or burp cloths, using different compartments or sealable bags.
Security: Secure liquids and prevent leaks by ensuring bottles or containers with liquids are sealed tightly. You can also consider placing them in a sealed plastic bag or using leak-proof bottle holders within the diaper bag.
Personal Items: Allocate space for your personal items, such as your wallet, keys, phone, and any necessary medications. This way, you won't need to carry an additional bag for your own things.
Weight Distribution: This is one of the most important things to note while using a diaper bag. Distribute the weight evenly within the bag to avoid straining one side or causing discomfort when carrying the bag. Adjust the straps or handles to find a comfortable fit. Otherwise, you will be left battling an unbearable shoulder pain. 
Conclusion
When out and about, the best diaper bags will make sure you don't miss out on anything your baby would need when you are traveling. Plus, the above-listed designs range from minimalistic to stylish, and Instagram-worthy. So, without further ado, go ahead and select the one that will carry all the burden for you by being a perfect companion. Happy shopping!
Author BIO
Ankita is a budding journalist and a certified fashion expert. If the Fashion police were an official organization, A More
FAQ's
What kind of a diaper bag is the best?
Backpacks have been considered to be the best diaper bag because of their ease of use. They allow equal weight distribution when compared to tote and sling bags.
Is it good to have two diaper bags?
If you are someone who is particular about hygiene, then you can buy two diaper bags. You can store soiled diapers in one and the unused ones in the other.
Is a diaper bag worth it?
Yes. They are definitely worth the investment for its adaptability, toughness, and capacity to hold all of a baby's necessities in one bag.
How big should my diaper bag be?
This depends on your usage and travel time. If it's a small outing, then a mini size will be perfect. Meanwhile, if you are going on a long trip, you need to buy a big size diaper bag.
How many packs of diapers do you need per size?
One size holds about 13 packs of diapers. This is perfect for one day travel.
How long do moms use diaper bags?
Most parents use a diaper bag for 3-5 years. Some even use it till their kids join full-time school.
Why Trust select
Ankita is a budding journalist and a certified fashion expert. If the fashion police were an official organization, Ankita would definitely be a member of it as she patrols the internet for new trends and blunders that are associated with the fashion industry. Ankita makes sure that her experience and knowledge become the foundation of all the content she puts forward to her readers. Storytelling, dancing, reading novels, and binge-watching movies are her favorite pastime activities. 
And, here, after thorough research, she has shortlisted the best diaper bags that are stylish and spacious as well. 
Our product experts study the specifications of every product we suggest and try them out to bring what's proven to be worthy of your money, time, and energy. We also have subject matter experts from various fields like Fashion, Skincare, Haircare, Home Decor, and Health & Fitness onboard to make sure our suggestions are credible and trustworthy. You can trust select to be your faithful shopping guide for all the right reasons!
Source link