Nicolas Huss came to Hotelbeds during a time of turmoil.
While the worst of the COVID travel restrictions had passed in May 2021 when the 58-year-old French native took over as CEO, it wasn't certain pent-up appetite for travel would drive a full recovery.
Yet Huss — whose background came in the financial and payments industry, where he had been CEO of Ingenico and Visa Europe — recognized the value of data, machine learning, automation and artificial intelligence to improve service and product offerings to customers and partners and better capitalize on the travel rebound that was starting.
Subscribe to our newsletter below
In accelerating digitalization and standardization, he saw opportunities to create a more frictionless travel experience. He tapped Paula Felstead, another veteran of the payments world, as the company's chief technology and operating officer. She led an overhaul of Hotelbeds' entire platform so the company could scale using a modern platform instead of one that was older than many of the company's employees.
The travel tech company — a leading wholesale distributor of hotel room inventory — has been rewarded for its moves, reporting its best booking fortnight by revenue in its history this year, recording a booking every second during peak time.
While addressing those issues called on Huss' professional experience, the new challenges he sees for travel speak more to his personal values. While surveys of businesses and consumers alike express consensus on the need for more sustainable travel, this time the uncertainty is over whether companies will sacrifice short-term profits or consumers will pay to cover the costs.
To Huss, however, the question is an ethical matter that leaves no room for an alternative. "Nonnegotiable," he calls it.
During Hotelbeds' MarketHub Americas conference this month in Cancun, Mexico, PhocusWire sat down with Huss to hear his views on travel technology, ChatGPT and the importance of sustainability. The conversation has been condensed and edited for clarity.
What have you learned in your two years as CEO? Has anything surprised you?
It's been really interesting and somehow very different from what I expected. The part that I really liked when I joined was I discovered that at Hotelbeds we have a double DNA. I thought I was coming to run a travel technology company. I realized pretty quickly that there was an ecosystem at play that was bridging between hotels on one side and high-value clients on the other side. What I hadn't valued at this point was the [market] appetite for that. It's actually pretty high in the industry. You know having someone that wouldn't be conflicted, being B2B only and making sure that we bridge, was something that was pretty important.
Technology was a priority for you. Can you talk about what pushed you in that direction?
[Today], not only do you have to be scalable and reliable, but you have to be easy to connect with. You have to definitely be able to deal with a huge amount of data and insights that we get every day. That's what we did, actually. We doubled the technology budget. We have been doubling this technology budget from '21 to '25 just to make sure that we would enter a consistency and would have time to [ensure] everything is right. We rethought the architecture just to make sure that it wouldn't only be fit for what we are today, but it would work for what we want to be tomorrow. A mid-term play rather than a short-term perspective. We did huge work on data contents, on connectivity, making sure that we would absolutely make it easy to connect with, which was something that was so obvious to me and Paula coming from the payment industry.
How difficult were those changes, given all that's been happening in the world and the travel sector?
It's been bumpy. It's been sometimes hectic, specifically in the beginning because rules were changing every other day, you know? My country was open and then we could see the country was closed again. Then you would have to deal with all the consequences of that. Running a business when you're not even in control of the end state, [when] someone else is telling you where to go, how to go, when to go – that's very difficult. But it also made us adaptable.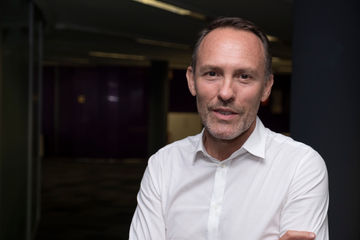 Having made some difficult moves, do you feel a sense of accomplishment now?
What I feel is that this is a good moment for us. Because we're not competing with the hotels. We're not competing with our clients. We do our best, day in and day out, just to do our job. That works well. We've [also] completely transformed the company. We reinvented ourself from a technology perspective. We just accelerated as much as we could all of the other segments of our business. Doubling the tour operators part or doubling the retail parts. We're accelerating immensely the non-room business like beyond the beds. We're creating some opportunities in payments and insurance. So we're really shaking the company and moving a lot of things.
Yet you don't sound ready to rest on your laurels.
If I look at it from an internal perspective, the opportunity is huge. Because we are one of the big players from a B2B perspective, but B2B is a relatively controlled part of the entire industry. Which means that we could double our share without really damaging anyone. Everyone would still be happy with the shares that they have. If we do our job well, I believe that we have room in front of us. On the other hand, it's a world that's fiercely competitive, no? So you see almost instantly that if you're not positioned from a pricing perspective, if you're not adding value, whatever, you're just out of market. It's almost like you're competing with the heavyweights. You're constantly challenged. You're in the ring and you have to play one round after another. So you need to keep yourself healthy and competitive. Honestly, I'm very positive about everything I'm saying that we have a great opportunity. People like us. We've been behaving well as a company during the COVID time. I hear that again and again.
With technology so important to you, I'm curious what uses you've found for ChatGPT.
We already use it. In the [United States], some time ago, we started to use it. Just to make sure that from a customer interaction perspective, customer services, it would be adding value, and it is. It probably plays to our advantage in the sense that we're a technology company. That's what we do. Our DNA is commercial, feet on the ground, but at the end of the day we have 4 billion searches a day, which means that people use us as a huge metasearch database. Everything that goes along, more data, more intelligence in the system, etc., this should work well for us. But, of course, we're not taking that for granted. We work hard. We have teams, which are dedicated to that, to understand not only what are the business cases, but are there some disruption scenarios that we need to take into account. Because we know that technology is obviously one of the big disruption factors.
You speak with passion about the need for everyone to strive for more sustainable travel.
For me, all of this is nonnegotiable from a company perspective. It is important for all of our stakeholders. We have the end traveler. We have the hotels. We also have our own employees. And we have a pretty young population. The average age at Hotelbeds is 37 years old. Gen Z and millennials are two-thirds of the employees. Wouldn't we do right by them? They would really not stick to the company. So we live by this. It's more than sustainability. It's everything that goes around doing right by the business. Making sure that we have an ethical behavior in everything that we do. Externally, we have many initiatives but the most emblematic is the Green Hotels program, which is increasing dramatically. [Hotelbeds reports a 30% increase over the past year in the number of people who book properties in the program, having been certified by the Global Sustainable Tourism Council]. We also have a tree-planting initiative [Hotelbeds Forest, which aims to plant 10,000 trees this year to assist in the fight against climate change and offset some of the company's carbon emissions]. The employees are incredibly proud of it. We take it pretty seriously.
You mentioned ethical behavior. What does that mean to you?
That's something that is very personal. It's part of your values as an individual. Personally, it's high on my agenda. In my personal life and professional life, it always has been. Not only do we feel compelled, but we're also trying to promote that within the company, just to make sure that everyone would understand that this is something that we live and die with. We try to make sure that not only is everyone comfortable with that but is also an ambassador of that.
Phocuswright Europe 2023
Top leaders from European hotel groups speak about servicing high demand, solving the labor shortage, protecting the environment and accelerating revenue.
Source link