The culture
This is a little misleading – in Northern Thailand it's not so much "the culture" as "the cultures". Though predominantly you will be coming into contact with those descended from the Lanna Kingdom, ethnic Thais who share a similar culture across the north, there are plenty of minority groups who call Northern Thailand home.
For a crash course in many of these cultures, visit Mae Sai Market, a shopping area in the Chiang Rai province right up in the Golden Triangle. Here you'll find crafts and other souvenirs made in Myanmar, Thailand and China, with plenty of ethnic minority groups also represented.
In the Chiang Mai province, Doi Pui is a major base for the Hmong people, while there are similar settlements in Nan, Phrae and Phayao provinces. To come into contact with the Karen people – originally from Tibet – pay a visit to Mae Hong Son, a remote town in the mountainous far north.
The Nan province, meanwhile, was once its own kingdom, and retains a culture distinct from its neighbours.
The history
As with culture, there's no one history of Northern Thailand. There are, however, plenty of places in which to learn more about the former kingdoms here, particularly the Lanna (with its strong Burmese ties), though also the Sukhothai Kingdom, thought to be Thailand's first, the Ayutthaya, Thonburi and Rattanakosin kingdoms.
Chiang Mai, of course, is the most famous historic city, with its intact city walls and moat. However, history buffs should certainly visit Sukhothai, home to Sukhothai Historical Park (tourismthailand.org): the extensive ruins of Si Satchanalai and Chaliang, twin cities whose remains will remind many visitors of the Temples of Angkor, though with a fraction the number of visitors.
Elsewhere, Kamphaeng Phet's ancient walls date back to the Sukhothai Kingdom, while there are several ancient temples and pagodas to view in Phitsanulok.
The cities
Northern Thailand is not really about big-city life. This is a region in which to get away from the endless skyscrapers of Bangkok, and take a break from the touristy rush of the likes of Phuket. Still, there are urban centres here to enjoy, and the largest and best-known of those is Chiang Mai.
This 700-year-old city was once the capital of the Lanna Kingdom, and it retains strong links to that proud history.
The sprawling Old Town, still surrounded by a moat and 13th-century city walls, features the perfect mix of old and new Thailand, where wats, or temples, sit near boutique hotels, and traditional markets share city blocks with stylish, modern restaurants.
The next city of note in this region is Chiang Rai, an even more laidback version of its etymologically similar neighbour. This is another city with more than 700 years of history, and one that makes a perfect base from which to explore the Chiang Rai province, filled with opportunities for adventure.
Elsewhere, Lampang has an excellent food scene (and great coffee), and Phitsanulok is a thriving ancient capital on the Nan River.
The towns
Now we're talking. Though the cities of Northern Thailand are well worth experiencing, this is a region in which to explore further than the major centres, to discover the small-town charms of this largely rural area.
The most famous town in Northern Thailand, at least among foreign travellers, is surely Pai, once a secret among in-the-know travellers, now a touristy hub in a gorgeous location in Mae Hong Son, the province to the north of Chiang Mai. Pai is a great base for those hoping to do some long-distance hiking through the mountains, or who just want to relax in salubrious surrounds.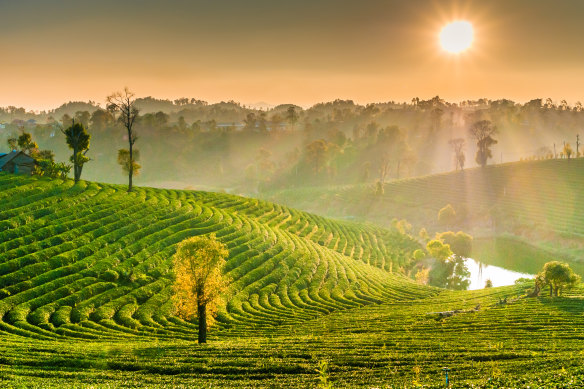 Elsewhere, Phayao is a lovely lakeside town that also allows access to Phu Langka, a stunningly beautiful area of rice-paddy fields surrounded by rugged mountains. There's also Mae Sot, a bustling, diverse border town in the Tak province, where you're as likely to find people of Burmese or Hmong background as you are the more familiar Thais.
Sukhothai is a former capital of the Sukhothai Kingdom, with a swathe of 13th-century ruins, while Kamphaeng Phet has a similarly rich heritage.
The food
Forget what you know about Thai cuisine, particularly if you've been eating it in Australia. The Lanna food of the north presents a whole new set of dishes to learn – though, the basic Thai passions for incredible amounts of chilli, and balances of sweet, salty, spicy and umami flavours in every bite certainly remain.
Wander a street-food market in Northern Thailand and one of the first aromas that will hit you is charring sausages: they're crazy up here for sai oua, a pork sausage with a heap of lemongrass and galangal, and naem, a fermented pork-and-rice sausage that is seriously tasty.
Much of the food in the far north has been influenced by Myanmar and China, and there's no better example than khao soi, a curry-based soup served with egg noodles, pickled mustard greens, shallots, lime and a boiled egg.
There are northern-style curries to explore, including gaeng hung lay, a pork-belly stew loaded with ginger and garlic, and fiery dips such as the minced-pork-and-chilli sambal nam prik ong. Expect all of these to be served with the ubiquitous sticky rice: the traditional Thai greeting, "Have you eaten rice yet?" , is just as prevalent in the north as the rest of the country.
The coffee
Yes, the coffee.
Coffee is a true passion in northern Thailand, particularly the Chiang Mai province, where arabica beans are grown in the highlands surrounding the famous city.
Those beans have only been cultivated here since the 1970s, but the popularity of coffee has exploded, as you will quickly discover while wandering around Chiang Mai. Its streets are lined with everything from simple, down-home coffee purveyors to the most hipster ristretto joints you have ever laid your Melbourne-loving eyes on.
For some of the best cups in Chiang Mai, call into Brewginning, Ristr8to Lab, Khagee, and Free Bird Cafe, among many others.
The sights
If temples aren't your thing, probably best to skip to the next section, because the main tourist sights of Northern Thailand tend to be what's known locally as "wats". Chiang Mai alone has about 300 temples, and there are hundreds more spread throughout the region.
Perhaps the most famous temple in Northern Thailand is Wat Phra That Doi Suthep, a gold-clad, hilltop complex that dates back to 1383, about 20 kilometres outside Chiang Mai. Inside the old city, meanwhile, Wat Phra Singh is another ancient temple worth visiting, as is Wat Chiang Man.
The Chiang Rai province hosts several notable wats that every temple-chaser should see. In Chiang Rai city, Wat Rong Khun, known as the "White Temple", is the work of a local artist, and is more of an installation than a temple, distinctive for the sea of outstretched hands reaching up from the earth as visitors enter the main building.
Elsewhere in Chiang Rai, Wat Rong Suea Ten, the "Blue Temple" is modern and spectacular, while outside the city, Wat Tham Pla and Wat Phra That Doi Wao, both near the Myanmar border, are well worth seeing.
In other parts of Northern Thailand, Wat Phra Si Rattana Mahathat is a 14th-century edifice in Phitsanulok, Wat Chaloem Phra Kiat is a series of pagodas high up in the mountains near Lampang, while Wat Phumin is another important ancient site in Nan, with extensive murals.
The adventure
Northern Thailand is ripe for adventure: trekking, rafting, biking, rock-climbing, motorbiking … it's all on offer here.
Those interested in any of the above should direct their attention to Pai, to the north of Chiang Mai. This is a major trekking base, with many companies offering multi-day hikes that take in the best of the mountainous countryside, calling through villages of ethnic minority groups along the way. From Pai you can also go white-water rafting, "tubing" on smaller rivers, and even soak in natural hot springs.
There are plenty of trekking opportunities around Chiang Mai itself too, as well as in the Chiang Rai province, and also in Nan, over by the Laos border in the far north-east.
Those keen on motorbiking (and who have a licence) will find some excellent rides here, in particular the Mae Hong Son Loop, a 600-kilometre journey that begins and ends in Chiang Mai, and takes in a colossal 1860 corners as the road wiggles its way through mountainous countryside to the charming likes of Mae Sariang, Baan Rak Thai and Pai. There's a Nan Loop too, a shorter though more remote journey taking in the districts of Pua and Bo Kluea.
If you prefer a more languid journey aboard a river boat, plenty of tourists cross the Thai-Laos border at Huay Xai in the Chiang Rai province and take a two-day journey along the Mekong down to Luang Prabang.
The wilderness
As you would imagine from a mountainous region with few large population bases, there are plenty of wilderness areas in Northern Thailand, many of which are national parks, and many of which are traditionally overlooked by foreign visitors.
Just north of Chiang Mai, Pha Daeng National Park is a beautiful area of bamboo forests, while nearby Chiang Dao is a haven for bird-watchers. Doi Inthanon National Park, meanwhile, takes in Thailand's highest peak, along with some spectacular waterfalls accessible via walking trails.
In the nearby Lamphun and Tak provinces, Mae Ping National Park follows the course of the Ping River, lined with sheer cliffs and deep caves. In the Nan province, Doi Phu Kha National Park is another great spot for walkers, with high terrain and low temperatures, plus more than 240 bird species, and occasional sightings of wild elephants.
Speaking of elephants, those hoping for an encounter with these beautiful animals should take care to ensure their activities are ethical.
Examples of ethically run elephant sanctuaries in Northern Thailand include Elephant Nature Park (elephantnaturepark.org) near Chiang Mai, Boon Lott's Elephant Sanctuary (blesele.org) in Sukhothai, and Into the Wild (intothewildelephantcamp.com), south of Chiang Mai.
The essentials
Getting around Northern Thailand can be a little tricky for those not familiar with the area. There's a train line from Bangkok to Chiang Mai – which can be taken as an enjoyable 12-hour overnight journey – which also connects these cities with the likes of Nakhon Sawan, Phitsanulok and Lampang. However, to get to Sukhothai, Nan, Phrae or even Chiang Rai, you will need to look at other options.
There are plenty of public bus and minivan services throughout the north, connecting all the major cities. These are cheap and largely reliable. Another option is to rent a car, or – if you're experienced and have a licence – rent a motorbike or scooter to fit in with the local crowds.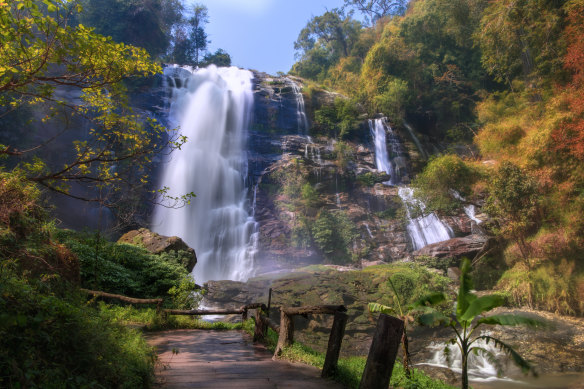 Pay attention, too, to the time of year you visit Northern Thailand. There are three distinct seasons: the cool season (November to February), the hot season (March to June), and the rainy season (July to October). The cool season is best for travel, offering mostly clear skies and low humidity.
Avoid travelling in March, particularly to Chiang Mai because this is "burning season", the end of the dry season, when smoke from bushfires and crop burning tends to hang in the air, lowering visibility and causing some travellers discomfort. See tourismthailand.org
There are many affordable flights from Bangkok and Phuket into Chiang Mai, Chiang Rai, Lampang and Sukhothai. See airasia.com or bangkokair.com
Five unique stays in Northern Thailand
Melia Chiang Mai, Chiang Mai
One of the newest hotels in Chiang Mai, the Melia is five-star property that mixes Spanish hospitality with a distinctly Thai atmosphere. The star attraction here is the rooftop bar, a stylish establishment that feels like it's been transported directly from Bangkok, set up above the 21st floor and commanding amazing views of Chiang Mai and surrounds. The rooms at Melia are also spacious and stylishly appointed. See melia.com
Four Seasons Golden Triangle, Chiang Rai
There's something truly special about the Golden Triangle, this area of myth and mystery, and there's no better way to experience it than with a few nights at the Four Seasons Tented Camp. The tents are deep in the jungle and take the concept of glamping to all new levels, while the activities on offer here – interacting with rescued elephants, hiking through bamboo forests, dining at the high-end restaurant – are unforgettable. See fourseasons.com
Reverie Siam, Mae Hong Son
The Reverie Siam, in Pai, is a throwback – an intentional one. The five-star hotel is supposed to remind visitors of another time in Thailand, the early 20th century, when travellers were only just arriving in this area, hungry for adventure, though still demanding all the luxuries. The decor is filled with classic French touches blended with a local Lanna aesthetic, while the sprawling grounds act as a sanctuary from the outside world. See reveriesiam.com
137 Pillars House, Chiang Mai
This is a special resort, a five-star property in the heart of Chiang Mai, though one that feels like a rural retreat. This spacious hotel was built in the late 1800s as part of the East Borneo Company headquarters, and is now a boutique, 30-suite property with a beautiful bar and restaurant on site. 137 Pillars offers unique cultural experiences within Chiang Mai, or the opportunity to just lie by the pool and relax. See 137pillarshotels.com
Onsen At Moncham, Chiang Mai
Yes, you're visiting Northern Thailand to experience Thai culture, but why not enjoy a little slice of Japan while you're there? Onsen at Moncham is a "mountain ryokan" deep in the forest about an hour north-west of Chiang Mai. The five-star, 24-room hotel is styled like a traditional Japanese inn, complete with onsen, or natural hot-spring bath, a sake bar, and an open-air izakaya-style restaurant. See onsenmoncham.com
Source link